Now that we're in our third covid lockdown, I was thinking of the previous one, last October, which seems such a long time ago. One of the ladies in my textile arts group heard of an online course, to be run by someone from France Patchwork, covering various textile art techniques, with the aim of producing fabric books in three different styles, over 3 months. Four of us signed up, along with another eight women from across France.
It has to be said that the teaching was somewhat sparse, comprising one 15 minute video per month; if you didn't already know what you were doing, you'd have been lost quite early on. The subject matter proposed was also unimaginative – all the teacher's books took India for their theme and, apart from the style of book, looked very similar.
First we made a scroll, making or buying stamps to print on used teabags and learning how to sew little Indian mirrors onto the fabric. I also tried my hand at traditional Indian embroidery, though it's not my forté, requiring far too much patience for me. Unlike most other participants, I also used techniques I'm already familiar with, to give some variety to the end result.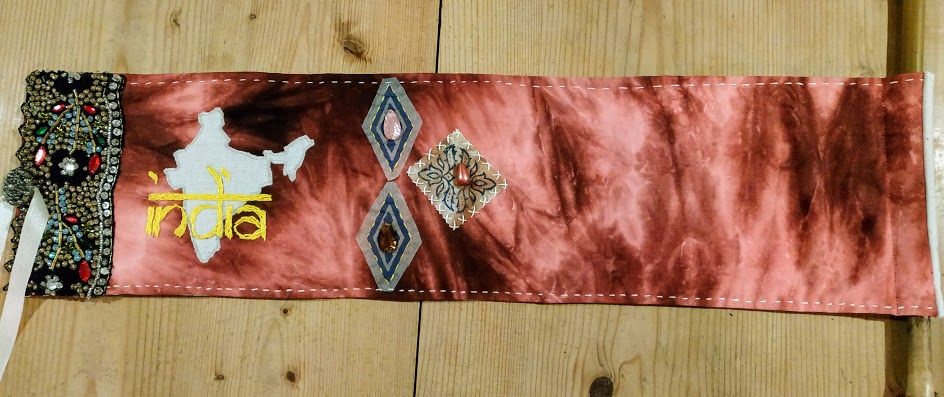 Next came the "Sumerian tablets" book, square pages joined together concertina-style. My theme for this was the seasons and as I started working I began to get into a different frame of mind artistically, attempting to mix styles and techniques in a way I hadn't tried before. The new techniques this time were stencilling with fabric paintsticks and using paper in the work too. I didn't have paintsticks and found they were quite expensive to buy, but having plenty of fabric paints, stencils and stencil brushes already, I was able to achieve the desired result. I used some lyrics from the "Seasons" album by Magna Carta, who I used to know and who gave me permission.
The other new technique for this book was the use of angelina fibres; our textiles group bought some, which each of us used and posted to the next person on the list. Maybe they're available in other, less hi-viz, colours as well as the ones we bought, but I wasn't impressed, so used them for the cover of the book; frankly, I think the result's pretty awful.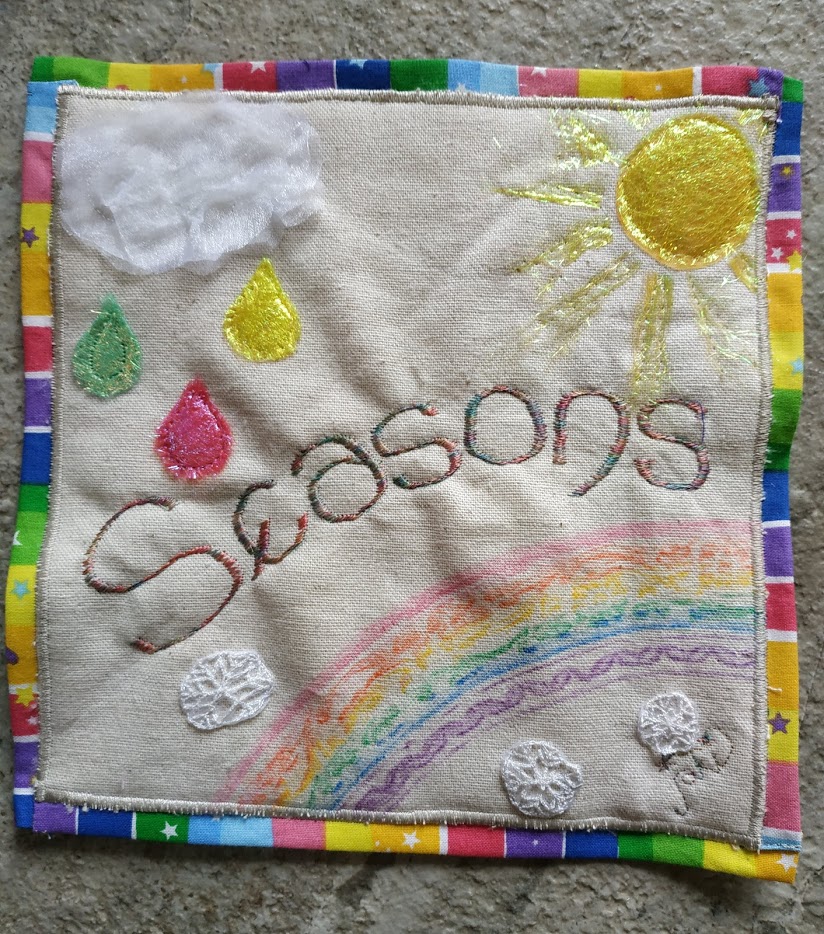 I always send photos of my current project to Gemma, my daughter in Australia; she gives me good feedback. When she saw the summer page she loved it and wanted a decent quality photo to have made into a canvas; better than that, I thought, why not give her all the finished pages; so I didn't actually make up the book, but kept the pages separate, mounting them on background fabrics so that she can frame and hang them.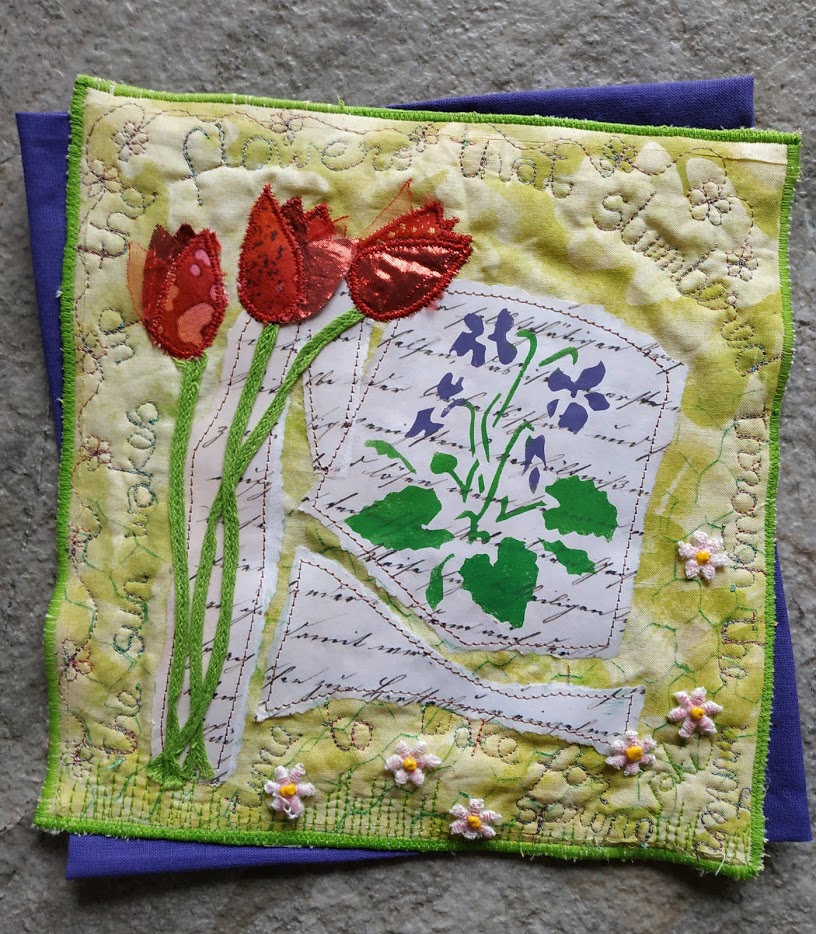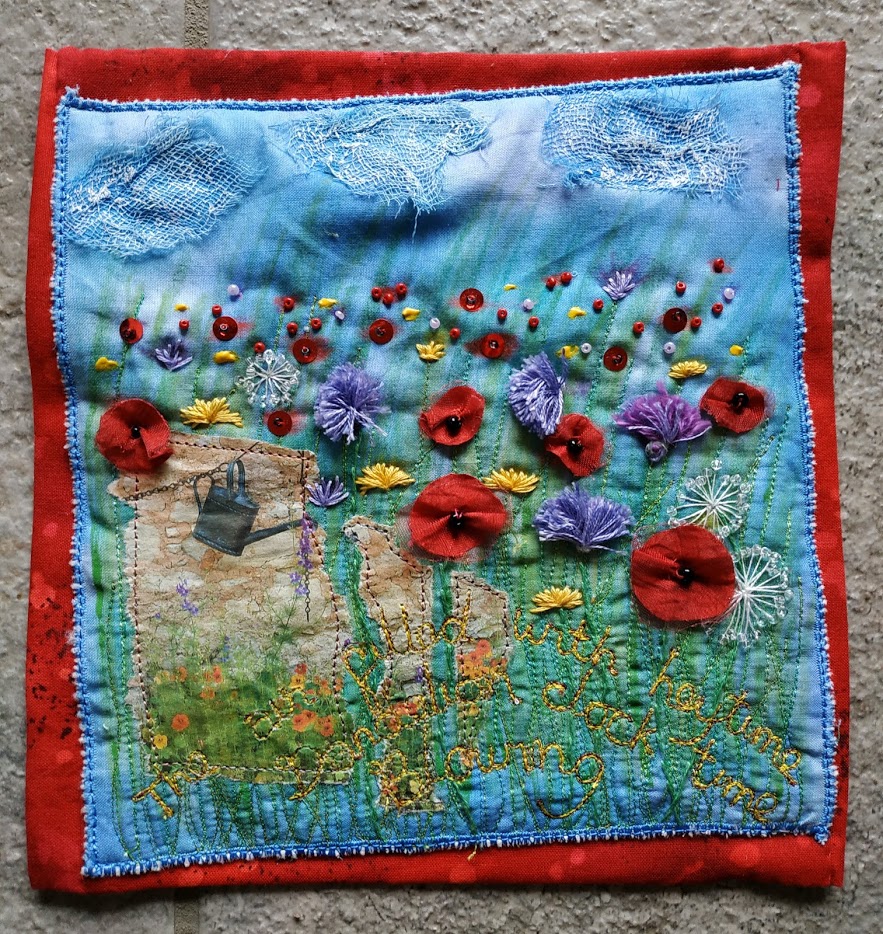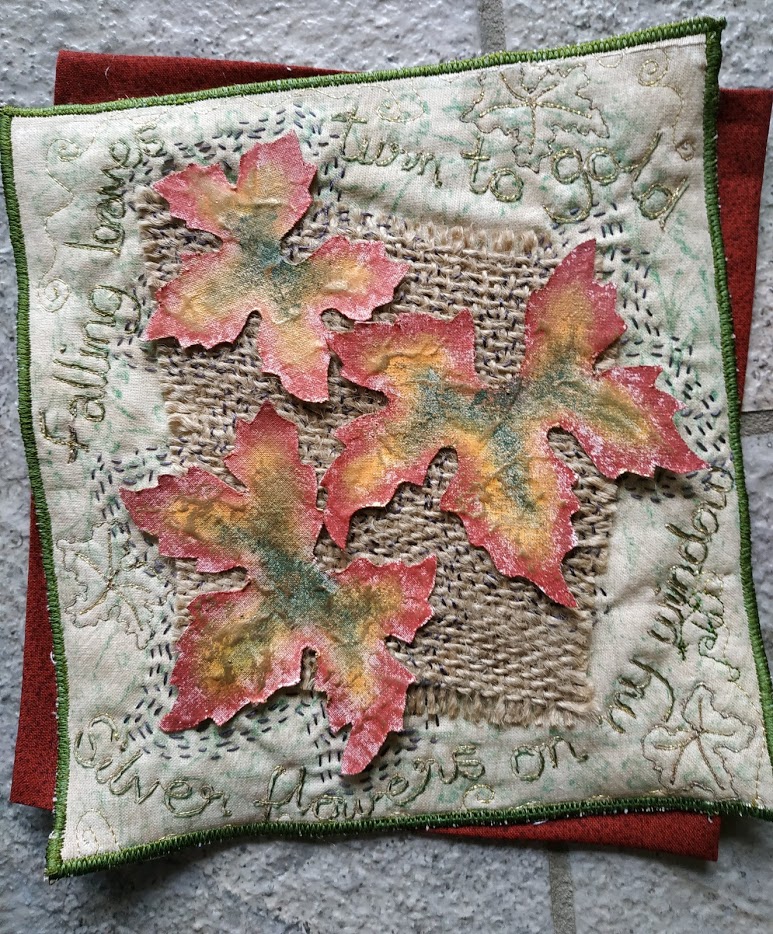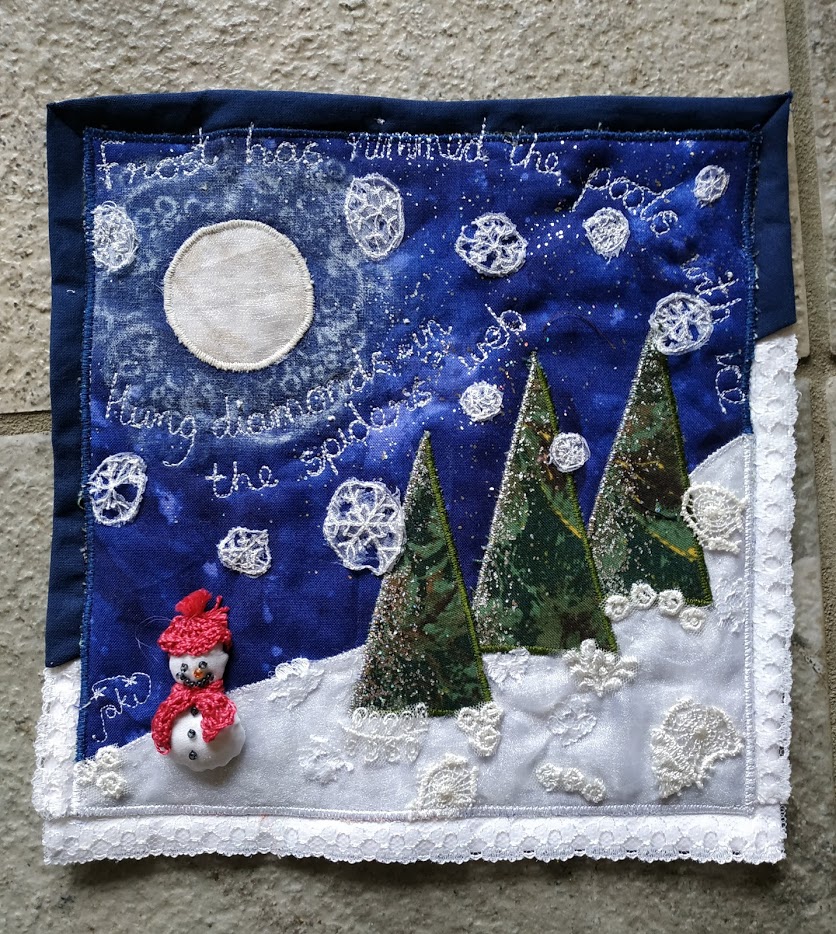 The new technique for the third book was to use gesso; I've had a tub in the cupboard for years, but never knew quite what to do with it. We cut some firm cotton fabric out, soaked it in dilute PVA glue, then glued on bits of scrunched up tissue paper, muslin, gauze and lace. We let it dry then painted it with gesso; mine took two coats as I'd used heavy cotton lace. Once that was dry, we painted it, added gold foil and gilding wax. The result was spectacular, definitely my favourite technique of the course.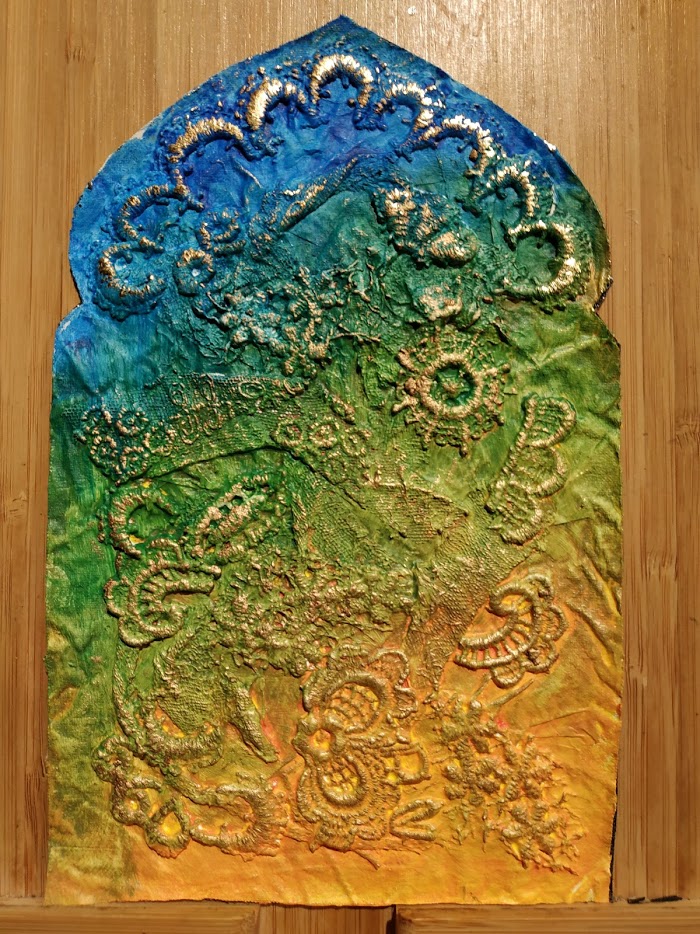 This was to be the cover of our third book and was to be cut in an interesting shape, so I used a Moorish arch shape and dug out the photos of our trip to Morocco, choosing several as inspiration for the inner pages of my book.
I was totally engrossed in what I was doing by now and keen to explore as many new techniques as possible; Nick made me a weaving frame so I was able to weave one page to give the effect of a terraced hillside, as well as a tiny rug for the page based on the souks of Marrakech. I embroidered by hand and machine, used water soluble fabric and bits of a page of a Moroccan newspaper we were given while on holiday; I stencilled onto teabags, embroidered on organza to give a transparent look to a cut out window, appliquéd, foiled and of course, used my newly discovered gesso technique.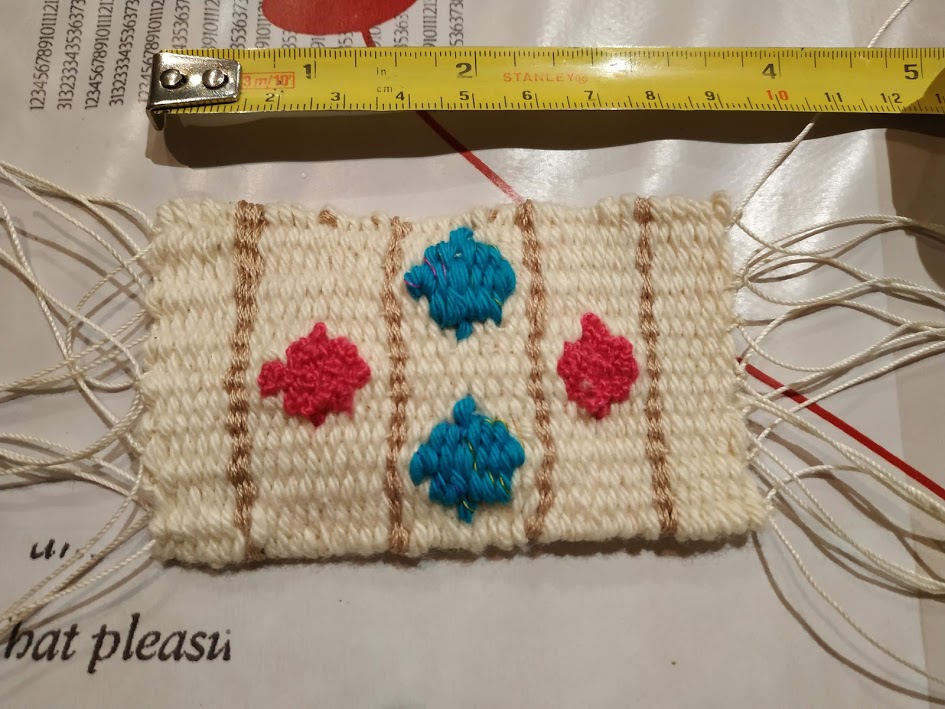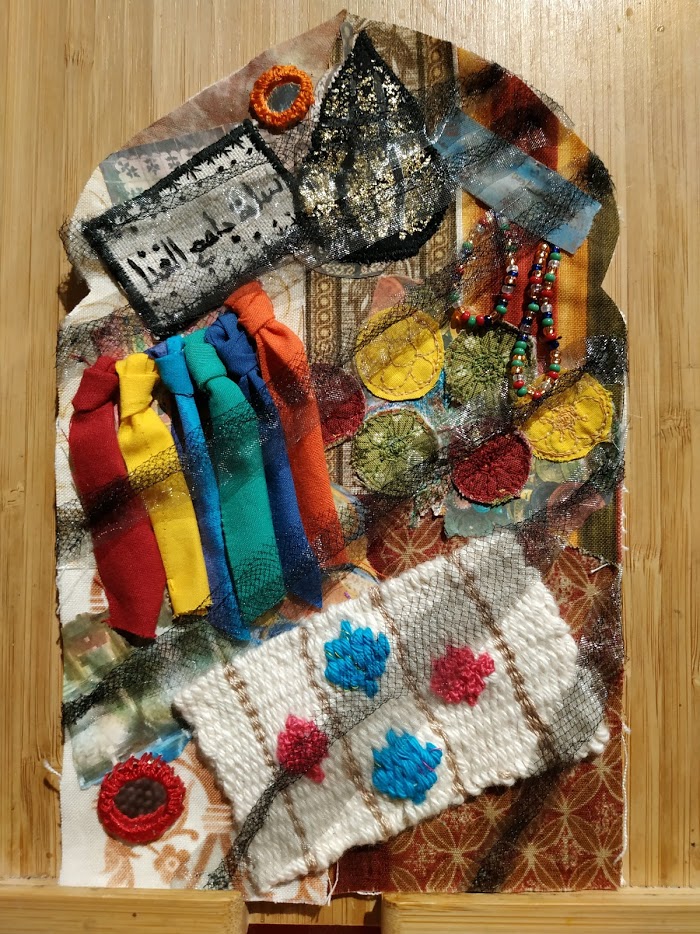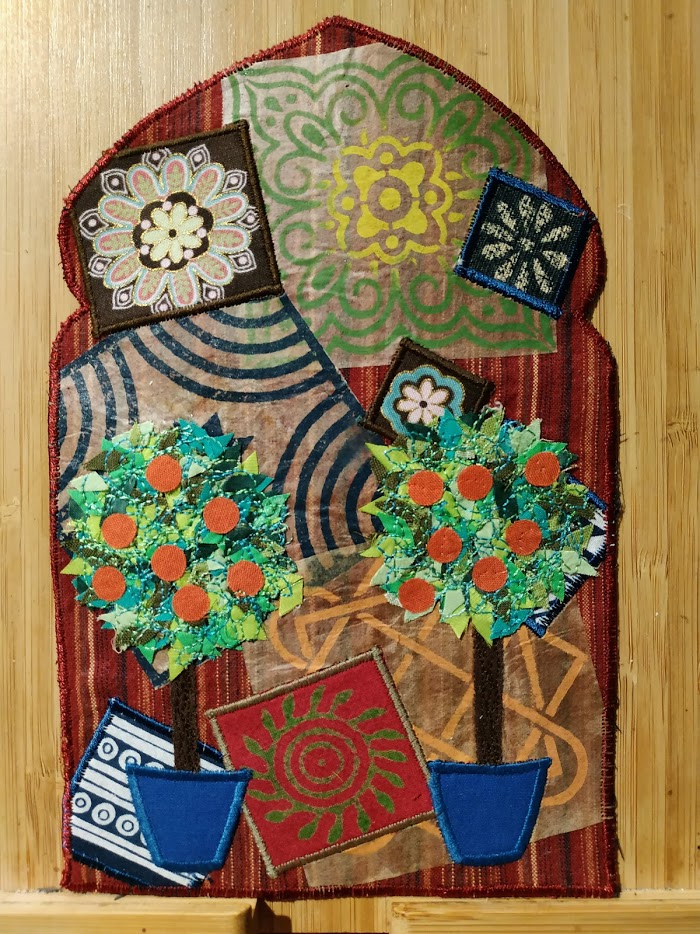 I made a back and a spine for the book, to match the front cover and my son in law's father very kindly printed my "inspirational" photos onto canvas for me to include in the book. It took a while to work out how to put the whole project together as I wasn't impressed with the method used by the teacher (her book had neither back nor spine), but at last, after 3 months, it's finished. I'm very pleased with the end result; it's a very personal and evocative souvenir of our holiday. 
Nick keeps promising to add another page, or gallery, or something, to this blog, one on which I can put photos of the textile work I'm doing, so one of these days it might appear.