Lots of people have asked me for a copy of the tributes paid to Nick at his funeral. Some of you will know that we tried to livestream the service, but that the internet dropped out quite quickly.
Gemma was the first to speak, reading a eulogy of which she and Kieran were the main authors; Alice translated it into French, which Patrick, the mayor of Caupenne read. Maurice, of the Nogaro cycle club, followed her; I'll include a local newspaper article which summarises what he said, including the obligatory journalistic errors. Alex had spent her journey to France writing her dad a letter, an extract of which she read out, followed by her own translation; Alice checked it over for any really unacceptable errors, but Alex wanted to be truly the author of her own words. My contribution was a poem by WH Auden, which perfectly expresses my feelings; There was no way I could read it myself, so my friend Kate read it in English, followed by Jacques with the translation, again provided by Alice and much better than the google translation.
By way of explanation of something Gemma said, I put the word out that I'd love cyclists to turn up in cycling kit, even if it was just a jersey over their ordinary clothes; dozens of them did so.
Just writing this has brought home to me, once again, how lucky I am to have such an amazing family and friends; everyone has pulled together, each person doing what they could to help everyone else, be it trips to the airport, making up beds for the incredible number of people we needed to house, or simply making sure I had something to eat before I keeled over.
Gemma
Good morning,
For those who don't know me, I'm Gemma, Nick's eldest daughter.
I'd like to start by thanking everyone for coming today, this is an impressive turnout which is fitting because Dad was a very impressive man.
I didn't ever think I'd be so glad to see so much lycra.
Dad was a man who built houses, who turned wood into beauty, and piles of rust into working clocks.
Few people know how much he was capable of, but a glance in his workshop, a look at his collection of carefully manicured bonsais or just a browse of his library would show the depth of his modest and unassuming expertise.
Mum and Dad met in 1975 at college, and it took him over 2 years to pluck up the courage to ask Mum out. They were married in 1980 and celebrated 42 years of marriage just last month.
They both worked in Biomedical Science and enjoyed walking, including supporting a school for the blind by guiding them along the Lyke Wake walk, a 40 mile trail which Dad completed over 40 times.
In the late eighties, we started traveling to France as a family for holidays and enjoyed staying at numerous gites, some nicer than others (remember the ant house?). It was on one such holiday that when sheltering from the rain in an estate agent, Mum and Dad made a spur of the moment house purchase – a dilapidated ruin with dirt floors and an outhouse in the Dordogne. This launched the twenty year French adventure which culminated in their retirement to Caupenne d'Armagnac in 2011.
For as long as I can remember, Dad's life revolved around cycling. A major factor in him and Mum moving to this area of France was its proximity to the Pyrenees where he could spend a large portion of his retirement years cycling pretty much every col (or mountain pass) in the range.
A particular highlight for him was last September, when he managed an incredible 43 cols and over 400 kms in 4 days. There is an elite club called the hundred cols club which you need to have cycled at least 100 unique cols to join. At the end of last year, Dad was listed in the club magazine as having achieved 344 cols to date.
Dad was seemingly impervious to pain. He was able to shrug off major injuries like they were nothing and we all know how he liked to throw himself off his bike with alarming regularity!
I was talking to Dad after his most recent cycling accident, and we spoke about the life expectancy of the new ceramic hip. He said that it should last 15-20 years, and that would probably see him out. I was horrified that he would suggest he would only be around for that length of time, but he said "I don't want to get too old and infirm, better a shorter life of greater quality"
In the next breath, he then took great pleasure in telling me that he was having his stiches out and made mention of the young nurse he was mooning at. I told him I hoped it was a young male nurse, he called me a spoil sport, but then conceded that the young nurse did indeed have a fine moustache!
One of our favourite memories of Dad was his friendship with Hermione the goose. Hermione was the most fearsome creature and hated everyone except Dad. There was a period of about a year when every photo of Dad working on the house included this proud looking goose stood next to him – protecting him from everyone and anyone who dared come close.
The thing about geese is that they can't fly with clipped wings. But Dad really wanted Hermione to be able to fly, so regardless of whether or not he knew he had an audience, he would run up and down the garden flapping his arms, with an enthusiastic goose following him, honking her support and flapping her wings too!
Dad's death serves as a stark reminder that life is short. That even the strongest people, the ones we thought would be there forever, are gone in the blink of an eye.
Although we are heart broken, we can take comfort from knowing that Dad spent the last four weeks of his life with family after two years of minimal contact, and it was clear to see that this made him so happy. He enjoyed over a decade of cycling and retirement in the most beautiful area with Mum and built a stunning home for them both.
Today we are crying, but his clocks are still ticking. The bikes lie dormant, and our hearts are broken but one day it will hurt a little less.
A tree which is overwatered will never grow strong roots; underwatered and it will die. Dad helped all of us grow strong roots with his consistency and calm, unwavering love and support.
I'd like to finish with a quote from a French Philosopher, Albert Camus that Dad sent me a couple of years ago when I was upset about something. It helped me then and I hope it can help us all now.
My Dear,
In the midst of hate, I found there was, within me an invincible love.
In the midst of tears, I found there was, within me an invincible smile.
In the midst of chaos, I found there was, within me an invincible calm.
I realised, through it all that…..
In the midst of winter, I found there was, within me an invincible summer.
And that makes me happy. For it says that no matter how hard the world pushes against me, within me, there's something stronger – something better, pushing right back.
Maurice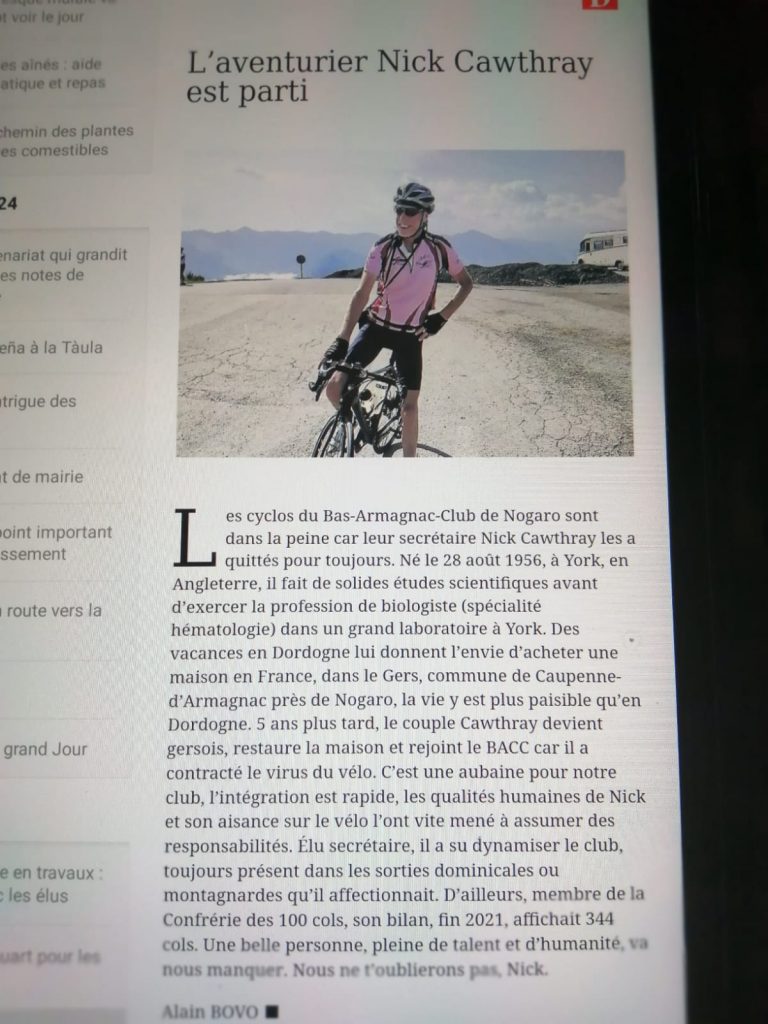 This translates, approximately, as:
The cyclists of the Bas Armagnac club of Nogaro are grieving because their secretary, Nick Cawthray, has left them for ever. Born the 28th August 1956 in York, he studied the sciences and worked in haematology in a big lab in York( actually Leeds). Holidays in the Dordogne led him to the purchase of a house in Caupenne d'Armagnac in the Gers, where life was quieter than in the Dordogne, and 5 years later the couple became Gersois (habitants of the Gers), renovating their house and joining the cycle club as Nick had been bitten by the cycling bug. He was a gift to our club, rapidly integrating, his natural good humour and his ease on the bike soon led him to play a larger role in the club. Elected secretary he revitalised the club, always there on the weekly runs as well as the trips to his beloved Pyrenees. He was also a member of the 100 cols club and had, up to the end of 2021, totted up 344 cols.
A wonderful person, brimming with talent and humanity, we'll miss him. We will never forget you Nick
.Alex
One of my favourite memories of all time, Dad, was the day, one Easter, when we all went into the mountains. Belle must have been about 6 and we spent ages at the border because she thought it so funny that she was in Spain while we were all in France. As we drove on, the two of you decided to go sledging….. without a sledge. You had a large cardboard box in the boot of the car, so decided to use that. I remember the first time the two of you tried to go down the hill, the snow was so deep that the box just sank in and you both got covered in snow.
As usual, though, you weren't to be defeated. You kept going, again and again, until the snow was so compacted that it would have worked if the cardboard box hadn't been so wet it was disintegrating!
It's so cruel that the rest of your beautiful grandchildren knew you for such a short time and won't get the joy and wisdom you gave to everything you do.
Stop all the clocks
by W.H. Auden

Stop all the clocks, cut off the telephone,
Prevent the dog from barking with a juicy bone,
Silence the pianos and with muffled drum
Bring out the coffin, let the mourners come.

Let aeroplanes circle moaning overhead
Scribbling on the sky the message He Is Dead,
Put crepe bows round the white necks of the public doves,
Let the traffic policemen wear black cotton gloves.

He was my North, my South, my East and West,
My working week and my Sunday rest,
My noon, my midnight, my talk, my song;
I thought that love would last for ever: I was wrong.

The stars are not wanted now: put out every one;
Pack up the moon and dismantle the sun;
Pour away the ocean and sweep up the wood.
For nothing now can ever come to any good.