We called in to see Kate and Rob a couple of weeks ago; they used to own a huge gite near us, which they sold last year. They had an infinity pool at the gite, but when asked if they'd be putting a pool in the new place, they were emphatic that no, it's far too much work, besides Kate doesn't like the shock of the cold water and had hardly used the pool at the gite, something I can definitely empathise with. She told us about a wood fired hot tub she'd seen on eBay. It's made of wood, like an overgrown barrel, and has a wood fired furnace inside – so the fire is effectively in the water. We were intrigued and started to do our own research.
I found a supplier in Germany who would do us a very good deal on two delivered to the same address. Kate and Rob, being Yorkshire folk, were very interested, so we ordered them. Rob brought his big trailer round to ours, ready for the delivery and we sat and waited…. No, of course we didn't!
We decided where our tub was to go and drew plans; we laid roof tiles out on the ground to show where the soil needed removing, then Nick got the digger out. He excavated a huge mound of soil at the end of the terrace, made a former in the middle of the space, put in some rubble and concreted a base. Next he started building the retaining wall around the edge, behind which will be plants and small trees for privacy.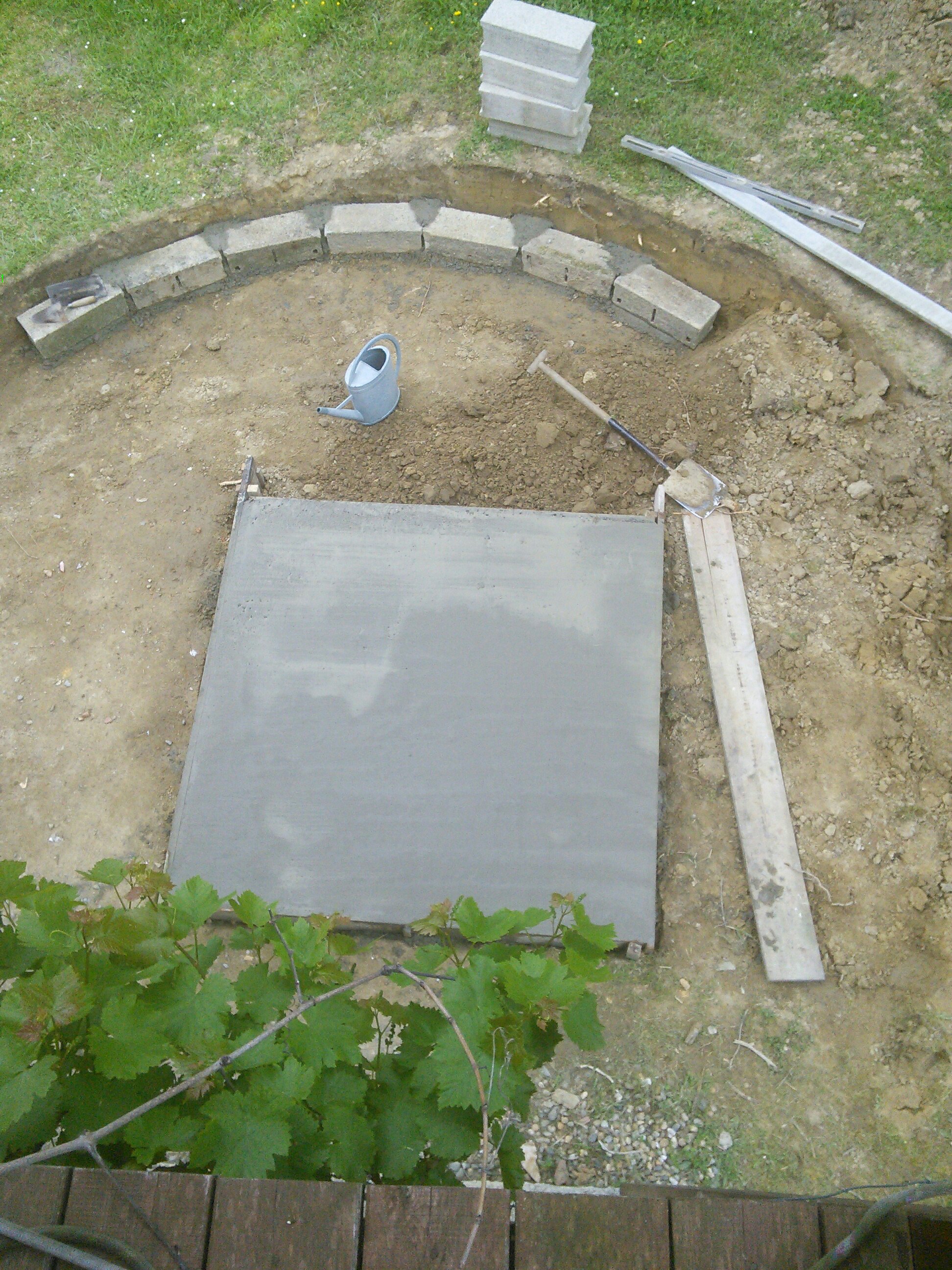 The tub was meant to arrive between Monday and Wednesday; the driver had our number and would phone us in advance. We stayed within earshot of the phone, but by Wednesday night had heard nothing. I emailed the supplier, who couldn't get in touch with the delivery company because it was a bank holiday; of course – France has no fewer than four bank holidays in May, no way were they going to arrive on time. Thursday passed, Friday morning came and went and we were beginning to wonder if they'd ever arrive when the phone rang. It was Neil and Jacqui, who bought Kate and Rob's old house; the delivery lorry was at their house, and had asked if this was where Jackie lived, to which the reply was yes, just not the right Jackie! They showed the driver the way to our house, arriving a couple of minutes later. So much for having plenty of time to get Rob and Kate round to help with the unloading!
We got both tubs off the lorry, ours into the garden and Kate's onto the trailer, and by the time Rob arrived, Neil was en route, driving very gently, to deliver Kate and Rob's to them.
We unwrapped it and put it in its temporary position, had a celebratory beer and left Kate and Rob unrolling hosepipe to fill it with water. The following morning Kate phoned, ecstatic; the kids had loved it when they got home from school, Kate and Rob had spent the evening in it and the kids were back in now, the water still being warm from the previous night. The only problem had been that the water got too hot! A smaller fire next time and Kate reckons she's found heaven on earth.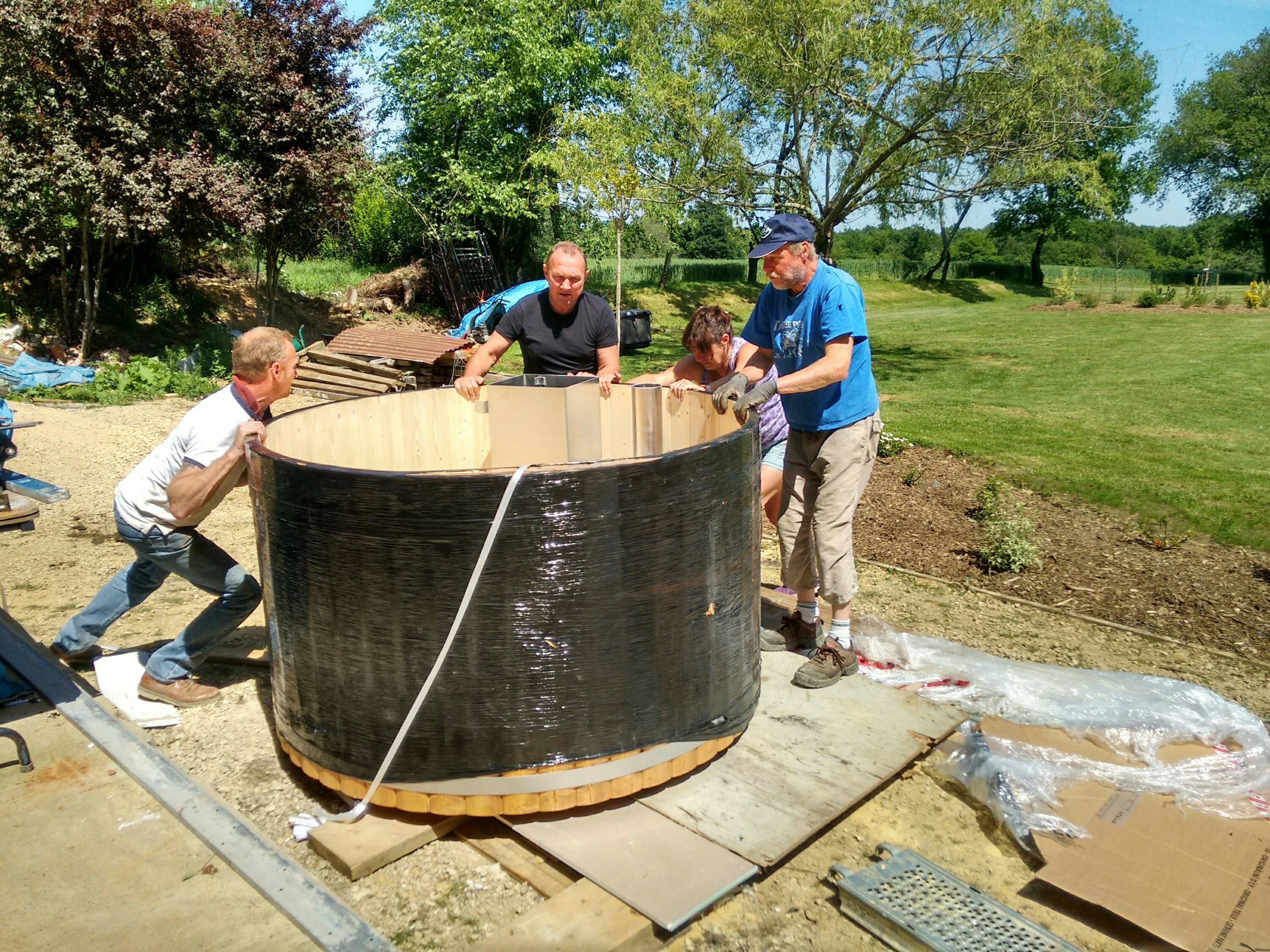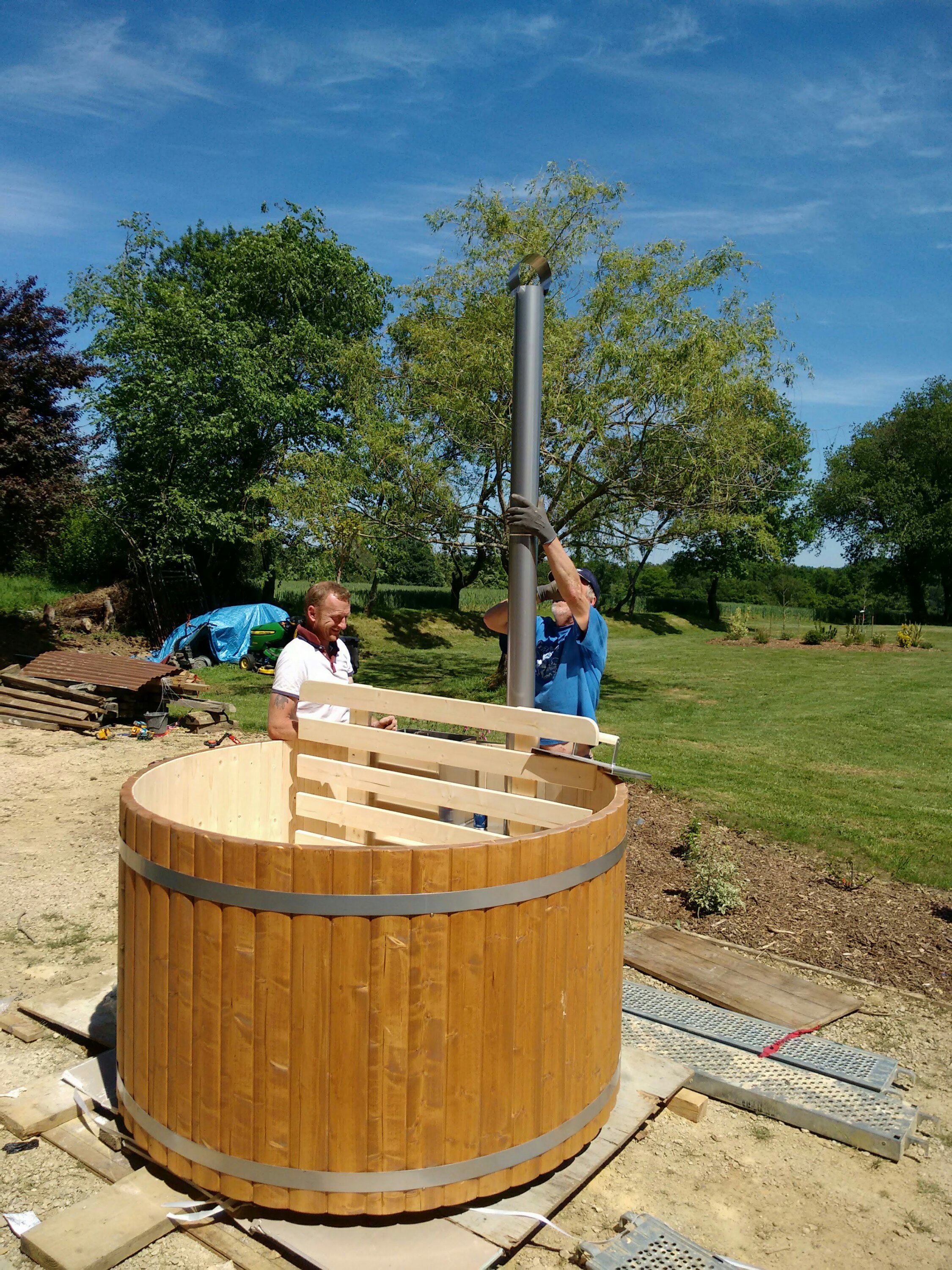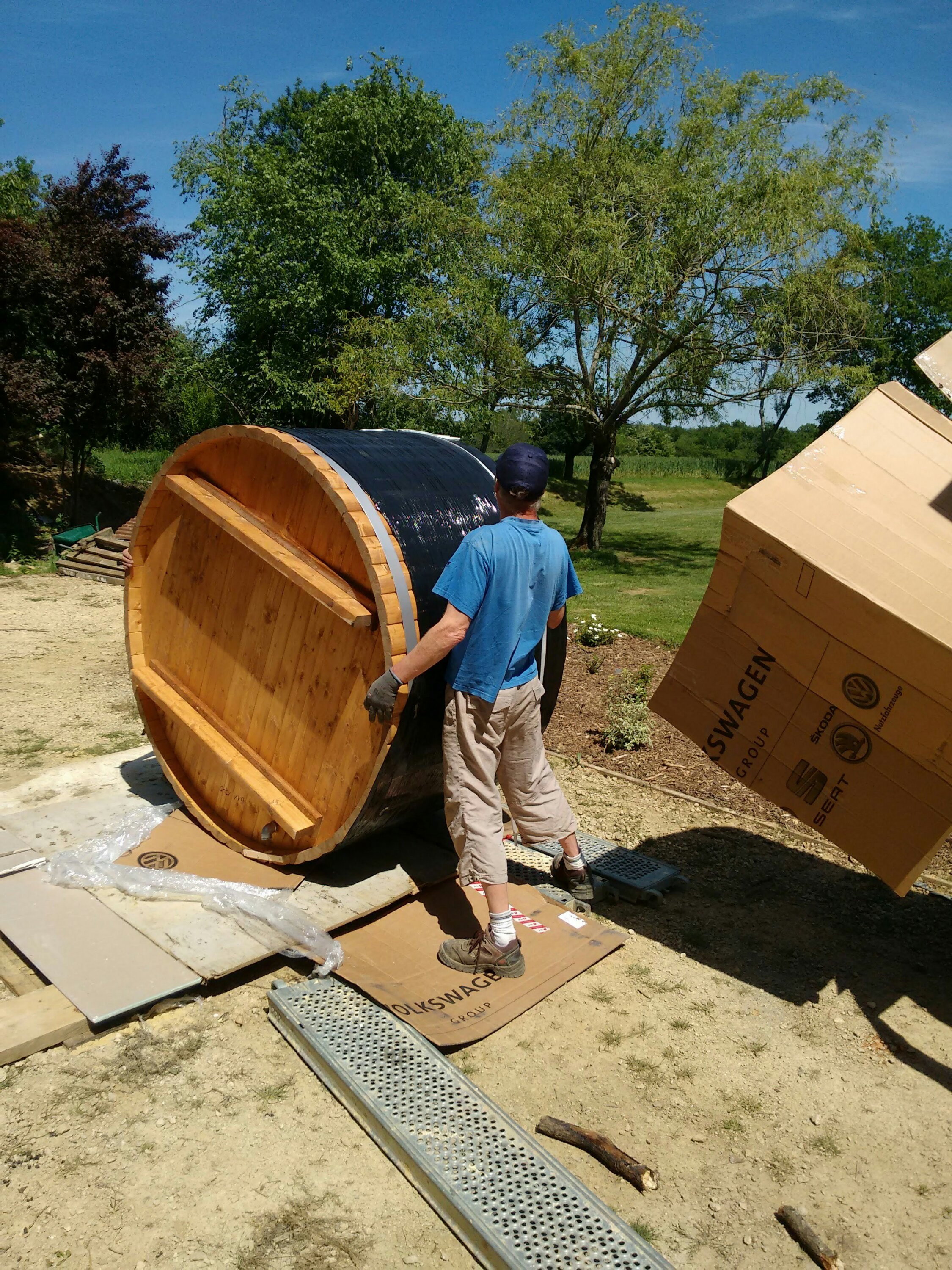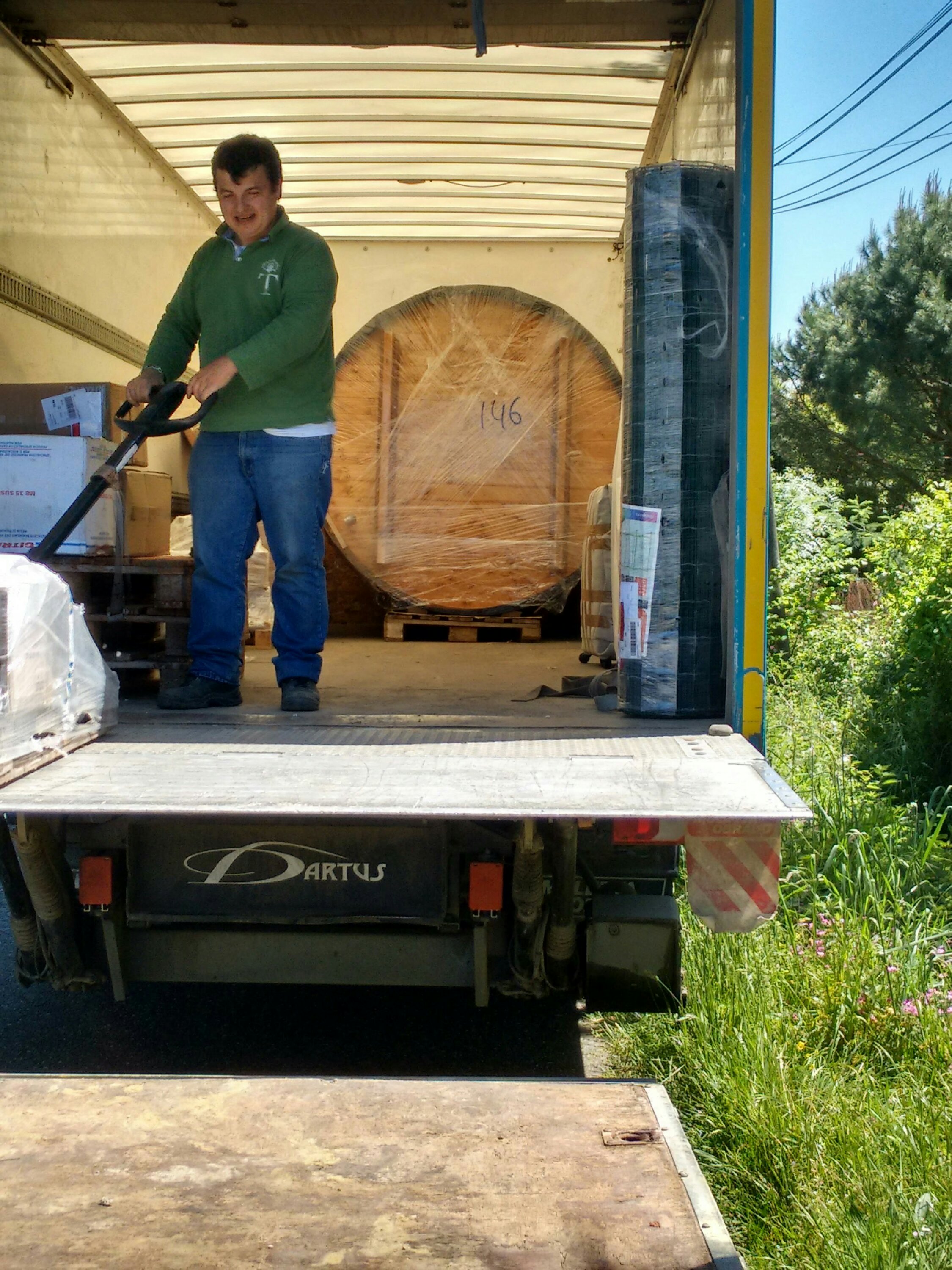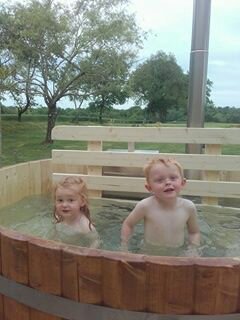 We're waiting a few more days for our concrete base to dry properly, but hope to be able to use ours by the weekend.