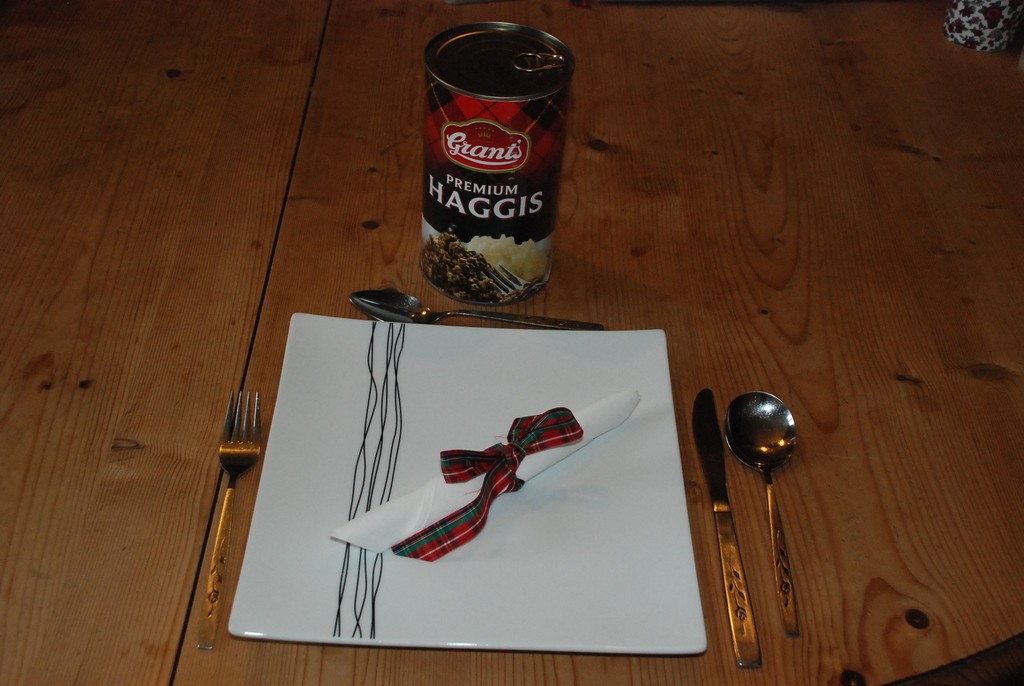 Talking to friends a few weeks ago, it transpired that they are afficionados of whisky; this was enough to prompt Nick to suggest that they come round to celebrate Burns' night with us.
I set to the task of finding haggis that could be posted here; not a difficult job, there are several companies who supply it in tins. The postage was the same for one, two or three tins; it would have been daft only to buy one, so a week later our three tins, each containing 1.2kg of haggis, arrived. I'd seen turnips on the market, but never swede and didn't know where to start looking, until, at Nellie's one day, Hervé arrived home from buying wine, with several swedes! I talked him out of one of them and found out which wine producer doubles up as a farm shop, before heading straight there to buy more. They can't be very popular; they were ridiculously cheap!
As the whisky loving friends can't join us till February and we had haggis (and neeps) to spare, we invited Kieran, Alice and her parents to celebrate Burns' night with us on Saturday. Nick researched the menu; oysters then  mussel and sweetcorn chowder, followed by haggis, tatties and neeps. We sneaked in a nod to French cuisine in the form of a salad and cheese course, then finished with a raspberry cranachan, served with whisky flavoured crème fraiche. All served, obviously with a variety of whiskies.
It went down so well that I suspect the menu will be identical next time.
Le meilleur connu poet ecossais, Rabbie Burns a vecu dans la 18eme siecle; tous les ans les Ecossais, aussi que des gens d'ailleurs, celebrent son anniversaire en mangeant du haggis (panse de brebis farci), des tatties (pommes de terre) et des neeps (navets jaunes), servi, bien sur, avec beaucoup de whisky.
En parlant avec des amis il ya quelques semaines, on a appris qu'ils sont fans de whisky; ce fut suffisant pour inciter Nick suggérer qu'ils viennent chez nous pour célébrer la nuit de Rabbie Burns avec nous.
Je me mis à la tâche de trouver du haggis qui pourraient être envoyé ici; pas une tâche difficile, il y a plusieurs entreprises qui l'approvisionnent en boîtes. Les frais de poste sont le même pour un, deux ou trois boîtes; il aurait été stupide que d'en acheter un, donc une semaine plus tard, nos trois boîtes, chaq'une contenant 1,2 kg de haggis, sont arrivées. Je n'avais jamais vu des neeps au marché, et je ne savais pas par où commencer à chercher, jusqu'à ce que, un jour chez Nellie, Hervé est arrivé à la maison apres avait acheté du vin, avec plusieurs neeps! Je lui ai demandé de l'un d'eux et ai découvert quel producteur de vin se double d'une boutique de la ferme, avant de me diriger tout droit là pour en acheter plus. Ils ne doivent pas être très populaire; le prix etait tellement bas!
Comme les amis qui aiment le whisky ne peuvent pas se joindre à nous juqu'à février et nous avions du haggis (et neeps) en quantité, nous avons invité Kieran, Alice et ses parents pour célébrer la nuit de Burns avec nous le samedi. Nick a choisi le menu; des huîtres. potage de moules  et du maïs doux, suivie par Haggis, tatties et neeps. Nous avons furtivement donné un clin d'œil à la cuisine française sous la forme de salade et de fromage, puis un cranachan de framboise, servi avec de la crème fraîche aromatisé avec du whisky. Le tout servi, évidemment avec une variété de whiskies.
Tout et allé si bien que je soupçonne que le menu la prochaine fois sera identique.