I'm not much a newspaper reader, but since we moved to France, we've taken the Connexion, a monthly English newspaper for ex-pats. It's very useful for explaining some of the more confusing aspects of French life, such as the horrendously complicated bureaucracy, or for knowing the exchange rate on the correct day for tax purposes.
A couple of months ago, at the end of an article on a famous gardener, they announced a competition to write about your potager, or veg plot; I decided to give it a go and spent a few evenings writing and editing, with feedback from Gemma. Finally I was happy with it and sent it off, along with some photos, then promptly forgot all about it.
Last week I received an email telling me I'd won! It would be an understatement to say I was gobsmacked – I don't win things. The prize is two wine themed tea towels, which have yet to arrive, along with publication online.
So here it is.
Tales from the Potager: Jackie Cawthray's story
From 20 square metres to 5,000 was quite the step-up for the novice potagistes when they moved from Yorkshire to the Gers – as we discover in the first of two winning entries to our Tales from the Potager competition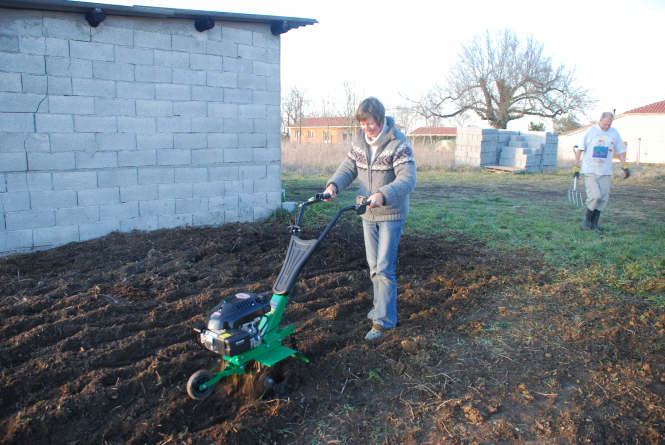 27 April 2021By Jackie Cawthray
When we took early retirement and moved to the Gers, we'd never had a garden to speak of; our Victorian terrace in Harrogate boasted a back yard of about 20 square metres. Suddenly we were faced with owning, and maintaining, 5000 square metres, most of which could best be described as a field.
A potager was a priority. We'd dreamt for so long of being able to grow our own fruit and veg, even though we had no idea how; it was going to be a steep learning curve. I found a jardin partagé in the local town, where I was welcomed with open arms.
I spent two mornings a week weeding, watering, planting and harvesting, but mostly soaking up as much information as my co-workers could provide, which they did with great good humour, sometimes highly amused by my mispronunciation of words I'd only read, never heard. I frequently came home with the panniers on my bike laden with produce, as well as occasional baby walnut trees that had self seeded where they weren't wanted.
We put all this produce and knowledge to good use, digging our first potager between the cabanon and the garage; we built a New Zealand composting system, got manure from a neighbouring stables and began planting. The first year, we grew more spinach than we could possibly use; strangely, I've never managed to get it to germinate since. Friends and neighbours gave us tomato and courgette plants as well as seeds for peppers, physalis, broad beans and mange tout peas.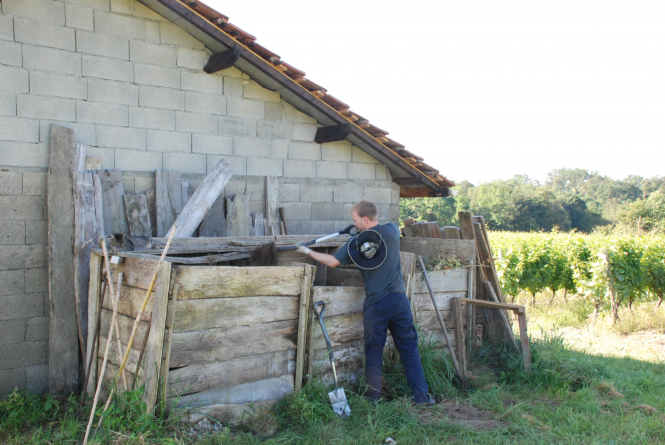 Soon the potager was too small – there were strawberries by the roadside, raspberry canes near the woodpile, cultivated blackberries in the park and where on earth could we put the five baby blackcurrant bushes we'd just been given?
We chose another location and started digging it out. The soil around here is heavy clay, though some patches of ground seemed much better than others.
We dug out the improved soil from the old potager, barrowed it to the new one and rotavated it in, along with manure and home made compost.
We came across all sorts of treasure among the bits of old roof tiles and lumps of concrete; there were old perfume bottles and very pretty bits of ceramic tiles, but best of all was the fire back, broken in two, inscribed with "Isabelle Mahue 1935".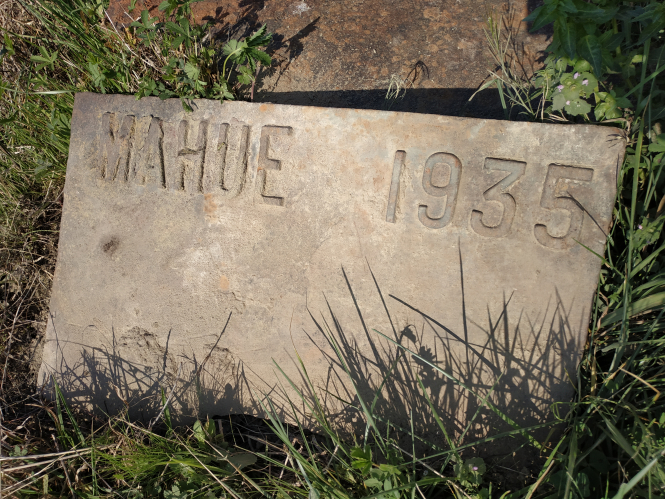 Who she was was a mystery to us till we were talking to an elderly neighbour one day; he knew Isabelle, whom he described as being as round as she was tall, extremely mean with money and who grew fruit and veg in her back garden, to sell on the market, which explained the patches of good soil. She died in the 70s and is buried in the little cemetery behind his house, so he took us to visit, explaining that the date on the fire back was the year she'd bought what's now our house.
Little by little the new potager took shape. Keen gardening friends from England came for a busman's holiday – it was great to work with people who know what they're doing. I no longer have time to help at the jardin partagé, but the friends I made there are always happy to advise and are still amused by my mistakes, such as when I carefully potted up, nurtured and transferred a load of strawberry runners to the new potager.
They weren't growing as I expected, so Christian came round to take a look – his diagnosis? They were all weeds, every one!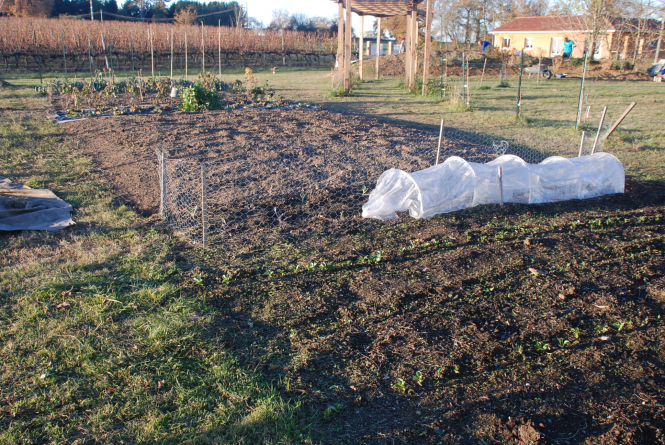 Watering during the summer soon became a problem; we'd got several large water butts to collect rain water, but this wasn't enough and we didn't want to use tap water, so my other half devised a system to pump the treated water leaving the septic tank across the garden, by way of an underground pipe, to a 1000 litre storage tank.
This helped a lot, but by August is usually still not enough; we have a well, but it's very deep, 17 metres down to the water. Eventually we found a pump powerful enough to bring the water to the surface, from where it goes, by way of another underground pipe (thank goodness we bought a mini digger!) to the storage tank.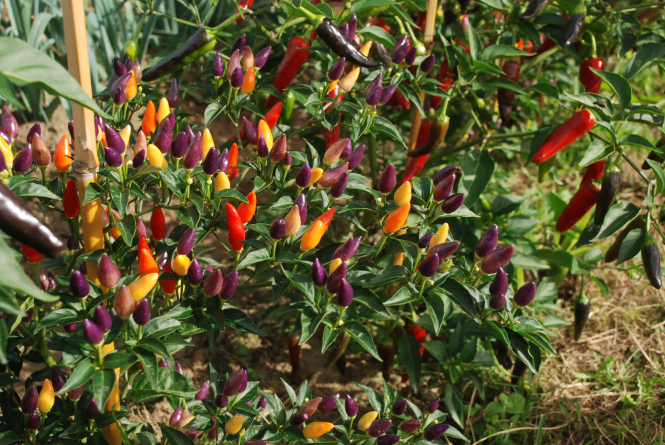 In spite of our occasional failures, we manage to grow enough tomatoes, aubergines, courgettes, beans, onions, raspberries and blackcurrants, to name but a few, to fill two chest freezers, which see us through most of the year. I still get a real buzz from swapping seeds and plants with friends and neighbours and giving away stuff that I simply don't have time or energy to process.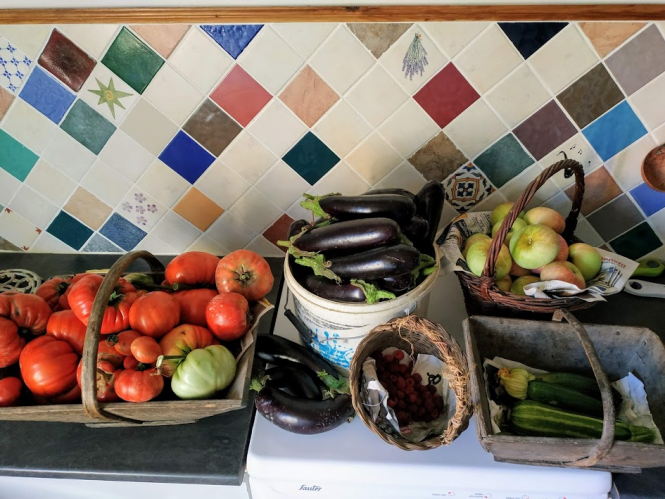 Last year our potager was a lifeline, we spent time we wouldn't normally have free in the garden and as a result, had a weed free potager for the first time ever. It never ceases to amaze me how much better home grown fruit and veg taste than anything you can buy, as well as having all the other benefits of being organic.
I also love being able to compost not just kitchen waste, but all paper and cardboard packaging too; I buy as little plastic wrapping as possible, so we have very little waste to recycle or put in the commune bins.
It's nearly time to start sowing seeds for this year … onwards and upwards, as they say on Gardener's Question Time.