I don't understand how someone as active as Nick normally is can remain as positive and cheerful as he has, when his movement is as restricted as it's been for the last 6 weeks. But somehow he's managed it and recently we had reason to celebrate when he managed the stairs for the first time since November 1st.
I don't do anything like the same amount of exercise as Nick, but if I'm deprived of it, I soon start to feel very low; 2 weeks and I'm climbing the walls, 3 weeks and I just want to curl up and die. So after nearly 6 weeks of nothing more than a quick walk to the supermarket while Nick's at the physio, things were getting desperate; I really needed a bike ride.
Nick has recently bought me a new bike; a road bike, but with clearances for slightly knobbly tyres. I'll take it when we go off in the camper, it should be ideal for trips around town or along cycle tracks, being less highly strung than my others. Obviously it needed trying out; Nick fitted the saddle we'd bought the previous day and canibalised another bike for pedals; the right pedal went in fine, but the left one was a struggle, being extremely tight. At last it was 95% in; that would do, commented Nick; at least I wouldn't lose a pedal.
The bike was great, comfortable and responsive, and it was a glorious day, so I ended up riding a bit further than I'd planned; after 15km, and heading for home, I felt so good, giving it my all up a hill, one, two, one, two, when suddenly, one…… nothing; no push, in fact, nothing at all! My right foot was floating about in the air – the "good" pedal had come off! I stopped; the pedal was still attached to my shoe and wanted to stay there. I couldn't walk home in that shoe without damaging the pedal, but didn't much fancy the walk in just my sock either. Much wrenching and pulling ensued and eventually the pedal separated from the shoe, so I set off to walk the remaining 7km. I let Nick know I'd be a bit late home; I didn't really mind; it was as lovely a day for a walk as for a ride, after all, with clear views of the Pyrenees, resplendant under the first snow of the winter. But about 3km from home a car pulled up; some friends had called in, heard of my plight and had come to rescue me.
Je ne comprends pas comment quelqu'un aussi actif que Nick peut rester positif et optimiste, quand son mouvement est aussi limité que ça a été pour les six dernières semaines. Mais de toute façon il le fait et récemment, nous avons eu raison de célébrer quand il est monté les escaliers pour la première fois depuis le 1er Novembre.

Je ne fais pas du tout la même quantité d'exercice que Nick, mais si je suis privé de tout cela, je commence vite à me sentir très basse; 2 semaines et je deviens melancholique, trois semaines et je veux mourir.  Donc après six semaines de rien de plus que quelques minutes à pied au supermarché tandis Nick à la physio, les choses devenaient désespérée; j'avais vraiment besoin d'une rando au vélo.

 Nick m'a acheté récemment un nouveau vélo; un vélo de route, mais avec des espaces pour les pneus légèrement noueux. Je vais le prendre quand nous partons dans le camping-car, il devrait être idéal pour des excursions autour de la ville ou le long des pistes cyclables, étant moins nerveux que mes autres. Évidemment, il fallait l'essayer; Nick a posé la selle que nous avions acheté la veille et il a cannibalisé un autre vélo pour des pédales; la pedale droite etait facile à faire, mais le gauche était  extrêmement serré. Enfin, il était de 95% en; ça serait bien, a commenté Nick; au moins, je ne perdrais pas une pédale.

Le vélo était superbe, confortable et réactive, et ce fut une belle journée, donc je suis allée un peu plus loin que je l'avais prévu; après 15 km, et se dirigeant vers la maison, je me sentais tellement bien, je poussais le plus dure que je pouvais, un, deux, un, deux, quand tout à coup, l'un …… rien; rien comme puissance, en fait, rien du tout! Mon pied droit  flottait dans l'air – la "bonne" pédale s'etait détachée! Je me suis arrêté; la pédale était encore attaché à ma chaussure et voulait y rester. Je ne pouvais pas rentrer à pied en cette chaussure sans endommager la pédale, mais n'avais pas beaucoup d'envie de marcher en seulement ma chaussette.  J'ai tiré bien la pédale, et finalement je l'ai séparé de la chaussure, donc je pouvais marcher les derniers 7 km. J'ai expliqué à Nick que je serais chez nous un peu en retard; ça ne me dérangeait pas vraiment; il était une aussi belle journée pour une promenade que pour un rando au vélo, après tout, avec une vue dégagée sur les Pyrénées, resplendissante sous la première neige de l'hiver. À environ 3km de la maison, une voiture tiré s'est arretée;  quelques amis etaient venus nous voir, Nick les avait parler de ma situation et ils étaient venus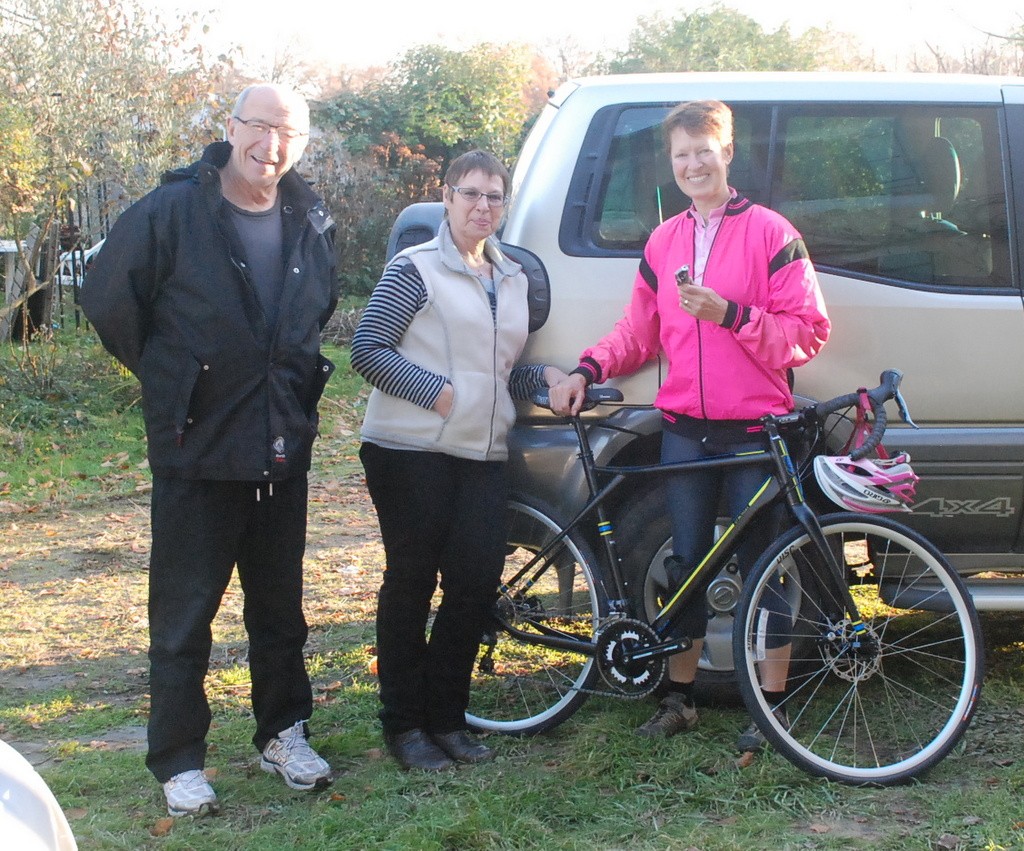 me sauver.